WDA PARCELS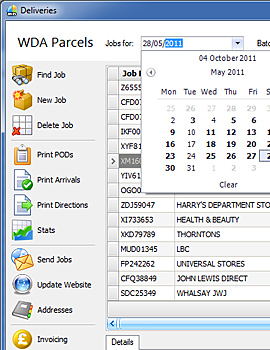 Problem
A local courier firm receives a large amount of parcels daily from a national courier requiring customer signatures for proof of delivery, but with no access to a central system and no paperwork supplied, this meant each package had to be hand written onto sheets and manually typed into an invoice system, creating a large amount of daily administration work.
Solution
It was identified each package had a 2D barcode on the address label containing information such as reference number, consignee name, address and other information about a job. A system was built to interface with a 2D barcode scanner so packages could be scanned and job information stored in a database system. The system then produces "Proof of delivery" sheets listing each delivery with space for a signature, grouping sheets into specific areas and ordering them geographically for drivers. Arrival sheets documenting what had arrived to be faxed back to the vendor and automatic weekly itemised invoices are also produced from the system as well as a variety of statistics and a facility to input house directions.
This system saves several hours per day and removes scope for error when invoicing.
Further development work was carried out liaising with the national courier's IT department to interface with their system and update individual job status - i.e. successfully delivered, carded, no longer at address etc