EaseSuite Mobile
A mobile/desktop app combo that allows workers to receive jobs and submit time & purchases against them on the go.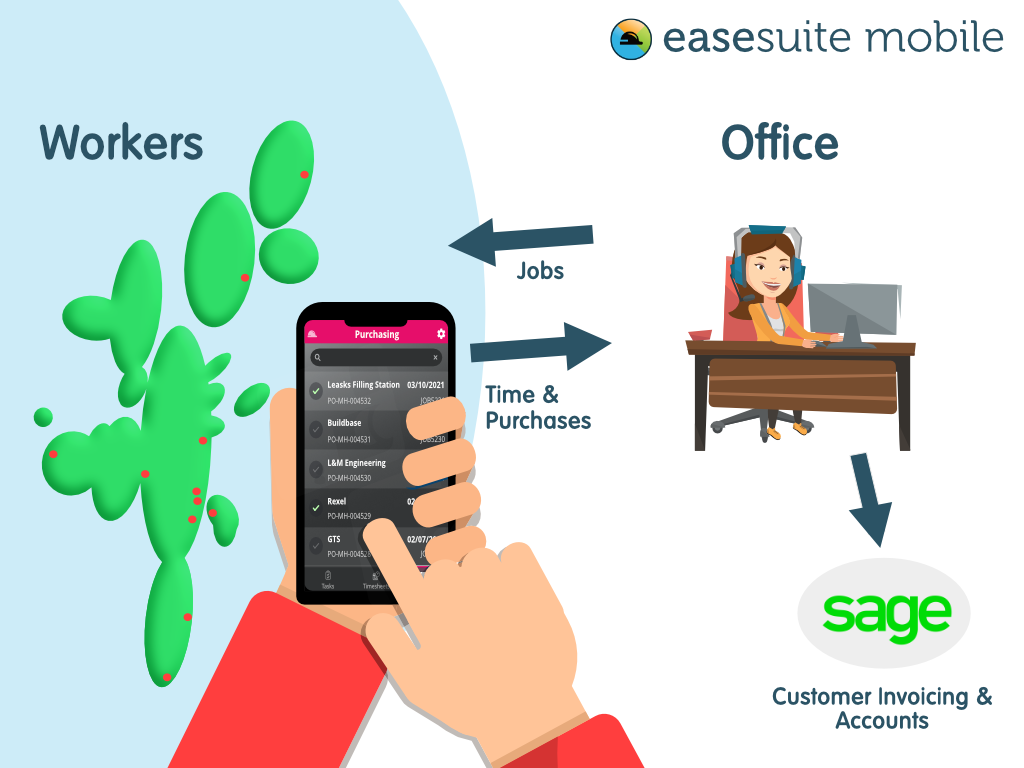 Features & Benefits
Information syncs back to the office and can then be approved or adjusted if necessary before being automatically pushed into Sage for billing and book keeping.
Eliminates the need for paper based timesheets and purchase books, which can get lost, forgotten, or handwriting is difficult to read.
Encourages a pro-active do as you go approach, or can be input at the end of the day. This helps ensure no lost time or purchases and reduces the need to chase up.
Greatly reduce admin time on jobs: no more collating timesheets or purchases, typing them up or pricing. Everything billable will find its way onto a job in the system automatically.
Great for busy businesses or even smaller player-manager business owners doing admin in the evening.
Improve cashflow with quicker submission and production of invoices.
Photograph receipts or job progression that syncs back to desktop. Add attachments to jobs for workers (e.g. operation manuals, procedure checklists).
Desktop software has powerful features such as job cloning (clone a similar job for another customer), automatic rules to make adjustments (e.g. set accounts nominals, pricing), deep searching and categorisation, breaking down jobs into sub tasks and assigning different parts to staff, part invoicing for long running jobs, fixed priced jobs, stats to see who has unusually low billable hours in a week/month and more.
Tracking can be enabled, which shows workers locations on a map (when they last had signal).
Chat functionality to ask questions or log notes about a job between staff and/or office to help share knowledge.
App will store data on device and synchronise with office later if a data connection is unavailable.
One-on-one support, we want to see you get the best out of it and features are added regularly based on feedback from the field.
Android & iOS (Apple) app.
Integrates with EaseSuite Desktop app, which can optionally be upgraded to later and covers stock control, sales counters, equipment hire and asset management.
Aimed towards small to large building/joinery, engineering, electrical and plumbing teams or similar.
Interested in a demo or quote?